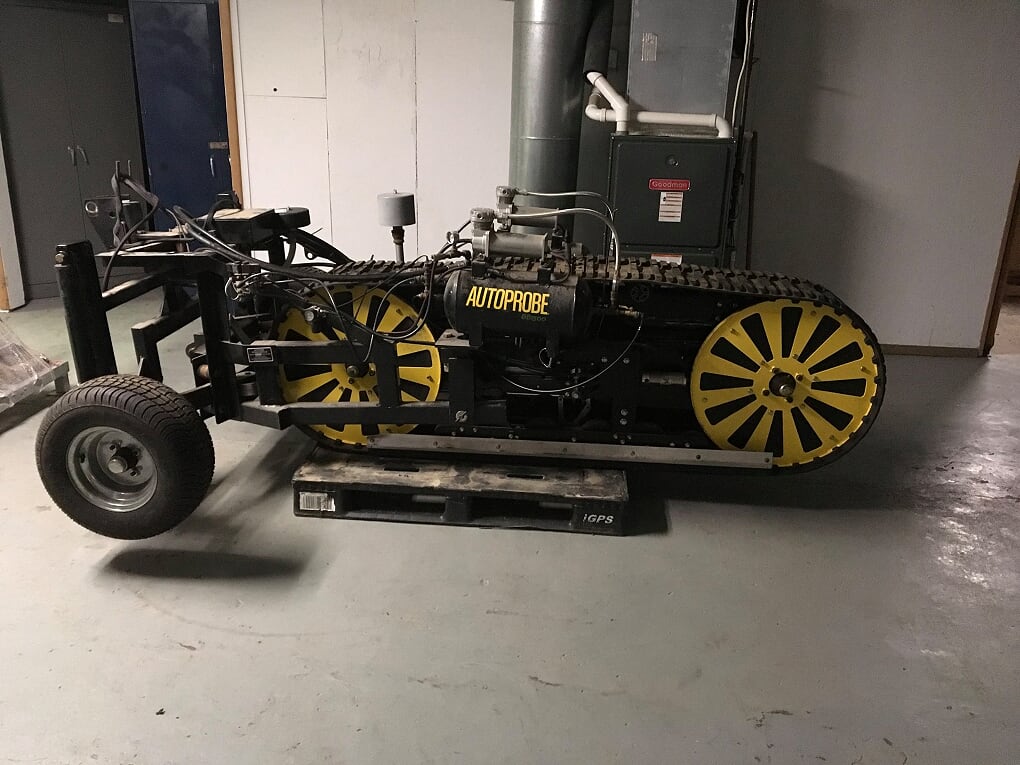 The AutoProbe is an automated soil testing machine and one of the hottest technologies in automated soils sampling on the market today. AutoProbe is the perfect solution to the growing need for accurate soil testing.
AutoProbe collects samples faster with increased accuracy and consistency.

At over three times the speed of semi-mechanized and manual core sampling, AutoProbe provides a considerable labor cost saving.
When compared with manual testing, AutoProbe delivers a more consistent, methodical testing pattern, yielding a more representative set of samples.

With AutoProbe, there are no restrictions on the soil collection pattern. Accuracy remains consistent no matter the terrain.
Measured in Pounds: 1,747 lbs.
Measured in feet: 10' x 6' x 4' (10' to the hitch, 6' wide, 4' height, including frame, hitch, tips, etc.)
Specifications and Requirements
Gallons of hydraulic pressure 6-8 gpm.

Rear lifting capacity of 1,500 pounds.
3-Point Hitch Class 2 minimum requirement (Class 3 will work as well).

Electrical specifications: will need male plug in cab for the control box.

Will need a place to mount control box and cyclone, with electrical connection. All electrical connections are already made on the control box and will tap into the hot power side. Agronomic Innovations may manufacture this device for you depending upon the type of tractor you plan to use with the AutoProbe machine.
65 Horsepower Tractor is minimum recommended size tractor. 75-100 Horsepower is preferred.
Smaller horsepower tractors will require front weights to balance out.
Currently, soil samples to guide fertility prescriptions are often pulled by hand in an inconsistent, un-replicable, un-traceable manner. To feed a rapidly increasing population, agricultural yields must increase - and improved fertility will be key to yield increases. The ability to reliably and accurately sample soil for fertility prescriptions will be foundational to the next phase in agriculture.
The AutoProbe is uniquely positioned to make reliability a reality. It can be pulled behind a pickup, Jeep, SUV, and/or a tractor. The six-inch probe is pressed into the earth by a track. After being pulled up, the soil core is dislodged with a 'Knock-Out' mechanism and sent via auger and pneumatic tube to a sample bag waiting in the cab.
Applications on a GPS-enhanced tablet allow for sub-inch sample location record-keeping. A tracking device on the AutoProbe itself allows agronomists and growers to see where each core originated---for assurance of accuracy.
Since everything begins with the soil, isn't it logical that having more cores pulled systematically across the field allows for more precision while providing a better representation of the entire field? Currently, precision in crop agriculture is from the ground up. Now with the AutoProbe, we can begin sampling precision.
We are equipped with the latest technology and equipment to help agronomist and to help farmers make smarter soil sampling decisions. All you need to do is ask us for help.